Transmissions from Vlentary – 2 June 2023 … oops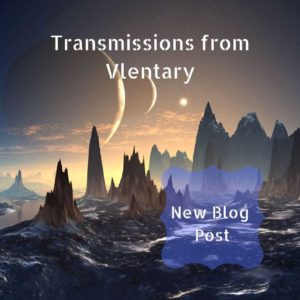 Blows off the cobwebs and space dust. Gives the website a good shake.
Is this thing still on…?
Wow, okay, it has seriously been a while since I've been in here. Apparently, my last post was January 2022. Not that's going to stretch the brain cells trying to remember what has happened in the last 18 months.
Highlights/Lowlights
– We finally got out of lockdown and had a good summer break.
– My pre-teen started high school (Yes seriously) and turned into a typical teen on his 13th birthday… God help me.
– Work slowly picked up again … yay.
– Slowly plodded along writing DG & OWIS. I set myself a 25,000-word goal for Camp in April. Made it to 3184 words before my brain finally gave me enough hints that maybe I didn't escape the two years of lockdowns as well as I thought I had. When trying to pull words out of my head was like attempting to roller-skate through treacle and I spent more time in tears than talking … it was time to take myself off to the doctor for some help.
–  May and June resulted in therapy sessions, medication and monthly b12 shots, which was truly eye-opening. A vitamin B12-powered Rhi is a sight to behold.
– I decided I needed to find my joy in writing again so in June I dusted off a random Idea I came up with a few years ago. I made a goal of writing 10,000 words and pants the entire thing.
– So … how did my 10k word giggle project that started with the image of two people arguing in a living room, being interrupted by the front door slamming open and an injured man leaving a blood smear down the wall, end up …
– well… its now a 56000 word first person giggle fest with a playlist from hell. And with a title of Kiss, Marry, Kill, it is definitely the bad idea that it sounds like, but it was so much fun to write and it was exactly what I needed.
What's New 2023.
After spending the last year or so dusting myself off and finding my writing mojo, I think I'm back … maybe.
DG & OWIS has finally reached the midpoint. I may however be slightly off on my total word count estimate …
Dream Goals & Other Ways I Scored - 1st Draft
Dream Goals & Other Ways I Scored
74% Complete
I am hoping to have this finished by the end of June.
K,M,K is currently out with betas. Had some good feedback so far… it needs work but people are enjoying it which is great.
Zombie – Hoping to start this one on 1st July for Camp. And aim to have it completed by the end of the year.  Fingers crossed
I am slowly revamping my website, so I apologise for the dust and any missing links :).  I've decided to separate my writing from my Aromatherapy/Massage business and will be running two separate websites. Slightly more work, but better in the long run I think.
I'm planning on doing monthly blogs and a writing update once a fortnight.
Well, that's it from me :). Going to try and be around a bit more frequently.  Feel free to drop me a comment on what you've been up to since my last update.
PS:  For those interested … here's the link to the Playlist from Hell.  You have been warned.
PPS: the chaotic outline for K,M,K can be found Here.